"I ain't just getting in shape to look good." That is one of the statements that stood out in Busta Rhyme's recent interview with Men's Health magazine. Busta Rhymes is a legendary hip-hop rapper and producer renowned for hit albums such as Extinction Level Event 2: The Wrath of God, which hit the market in October 2020.
In the interview, the star revealed that his body physique was good in 2009. At the time, he maintained a healthy diet plan and worked out almost daily. Things started to spiral out of control after losing his longtime manager Chris Lighty in 2012 and his father in 2014.
"Those were the most important male figures in my life," he said to Men's Health editor. He stopped working out and started eating junk food as he tried to cope with the pain. He focused solely on caring for his six children and, in the process, forgot to take care of his mental and physical health. 
Busta Rhymes Turning Point
His wake-up call and the turning point came in 2019 when one of his sons found him in his car asleep and having difficulties breathing due to sleep apnea. Busta was taken to the hospital and underwent emergency surgery after the doctors realized he had developed polyps in his throat. The condition was dire as it restricted 90% of his breathing.
Busta Rhymes Workout Routine
After the surgery, Busta Rhymes decided to regain control of his life and health. First, he relocated to Jacksonville, Florida, to start training with the help of Dexter Jackson, a professional bodybuilder. 
His weekly regimen entailed exercising thrice daily on Mondays, Wednesdays, and Thursdays. On Tuesdays and Saturdays, he would train twice per day. The stringent workout routine created by his trainer resulted in an increase in weight from 290 pounds to 340 pounds due to muscle gain. 
His weekly workout plan included:
Straight arm pull down – 4 sets each 15 reps

Smith machine bench press – 3 sets of 15, 12, and 10 reps

Machine ab roller – 3 sets of 20 reps each

Machine pullover – 4 sets each 15 reps

Incline cable fly – 4 sets each 15 reps

Machine chest press – 3 sets of 15, 12, and 10 reps

Triceps press down – 4 to 5 sets each 15 reps

Dumbbell hammer curls – 4 sets each 15 reps

Standing dumbbell curl – 3 sets of 15, 12, 10
Busta Rhymes Weight Loss Diet Plan
Busta Rhymes had to change his lifestyle to prevent further weight gain and start shedding weight. "We didn't go out. We just watched movies and recorded songs. Went to be early, got up, and got back to work." Apart from not going to clubs, he replaced all junk and other unhealthy foods with low-calorie foods with little or no fat. 
His ultra-healthy diet plan included eating 12 egg whites with oatmeal for breakfast, salads, fish, and a 10-ounce steak after a workout session. In the past, he had tried different meal plans, such as the keto diet and intermittent fasting, but none seemed to work. The new diet plan helped him build muscles, but unfortunately, that resulted in weight gain.
After a month of intensive muscle-building workout regimen in Jacksonville, Busta Rhymes decide to relocate to New York to continue his workout routine under the supervision of his trainer, Derek. 
He changed his diet plan to reprogram his body to start losing weight. He cut down on steak and fish and ate more vegetables, salads, and whole meal foods. "I ain't just getting in shape to look good for my music. I was raised to protect and provide for my family and my people. I don't know how to be any other way. I have to contribute in any way I can, even if that means engaging in physicality to ensure survival," he told the Men's Health magazine.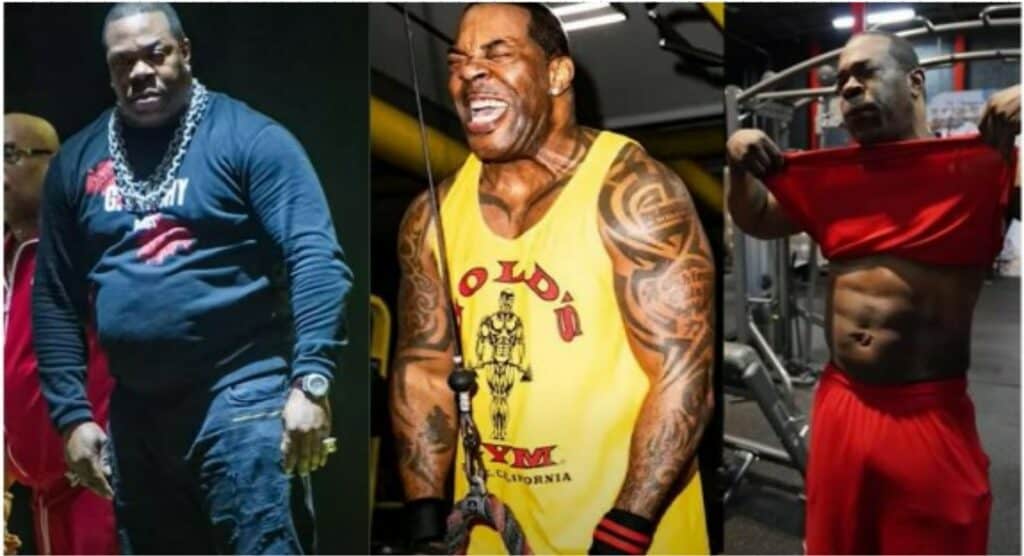 Conclusion
His revamped lifestyle enabled him to lose a whopping 100 pounds in only 12 months. The low-carb diet plan and workout routine helped him get ripped. Pictures of his new body physique broke the internet when he posted a photo on social media working out at the gym. 
Busta Rhymes's weight loss success and body transformation prove that you can achieve anything you focus on and commit to in life. You don't need to see the whole staircase; take the first step and trust the process.