You are not alone if you have contemplated having breast implants. As of 2019, the most common cosmetic surgical operation in the United States was breast augmentation (which includes breast implants as well as fat transfer—or the use of liposuction to move fat from other regions of your body into your breasts).
There are several reasons why a woman might desire or want to have breast augmentation surgery. The most common reason for a woman to get breast implants is if they feel their breasts are too small.
A woman can have asymmetric breasts where one is smaller than the other and they can then modify the symmetry. During weight loss or pregnancy, the breast tends to reduce in size; therefore, augmentation can help account for those losses. The procedure can repair any irregularities or issues with the breasts, and it may help boost confidence and self-esteem.
After losing a breast to cancer, you may elect to have breast implants. Alternatively, you might be a healthy individual who wants to modify the form or size of your breasts; so, what is the difference between breast implants and breast augmentation? Breast reconstruction is when a breast cancer patient receives breast implants.
However, breast augmentation is the procedure through which a healthy individual receives breast implants to modify the form or size of their breasts. Breast augmentation is frequently referred to as a boob job. Here are seven celebs who love their decision to get breast augmentation done:
Looking at Celebs Who Love Their New Breasts
1. Dolly Parton
It's no secret that country music legend Dolly Parton has had several plastic and cosmetic surgeries throughout the years.
She is frank about her several breast augmentation treatments. Furthermore, she has frequently said in interviews how much she adores them. People know her breasts as part of her famous image. Her physicians have strongly advised her to lessen her breast size owing to severe back pain, but she refuses, claiming that they are her most valuable asset.
2. Kaley Cuoco
When it comes to plastic surgery, actress Kaley Cuoco, who appeared in the blockbuster television series The Big Bang Theory, has nothing to hide. She simply wants to look and feel good about herself.
She revealed in a 2014 interview with Cosmopolitan that she underwent breast augmentation surgery when she was 18 years old. She also called it "the finest thing I've ever done." Her implants helped her to feel better about herself. "I don't think you should do it for a man or anybody else," she said, "but if it helps you feel confident, that's fantastic."
3. Angelina Jolie
Angelina Jolie underwent a prophylactic double mastectomy after finding she carries a gene that increases her risk of developing breast cancer. She then underwent breast augmentation to rebuild what had been taken during the operation, and she describes the results as "amazing." Jolie admits that the decision to get the surgery was not easy, but she is glad she did. She is less concerned now that she is less likely to have breast cancer.
Her odds of contracting breast cancer have now fallen from 87% to less than 5%, which she considers well worth it.
4. Naya Rivera
Naya Rivera of Glee opted to have breast implants on her 18th birthday. She explained that undergoing breast augmentation was "a confidence issue, not a sexual thing" for her.
Her boobs still make her happy when she looks in the mirror, although it has been almost 10 years since her operation. "It could have been the greatest $8,000 I've ever spent," she adds.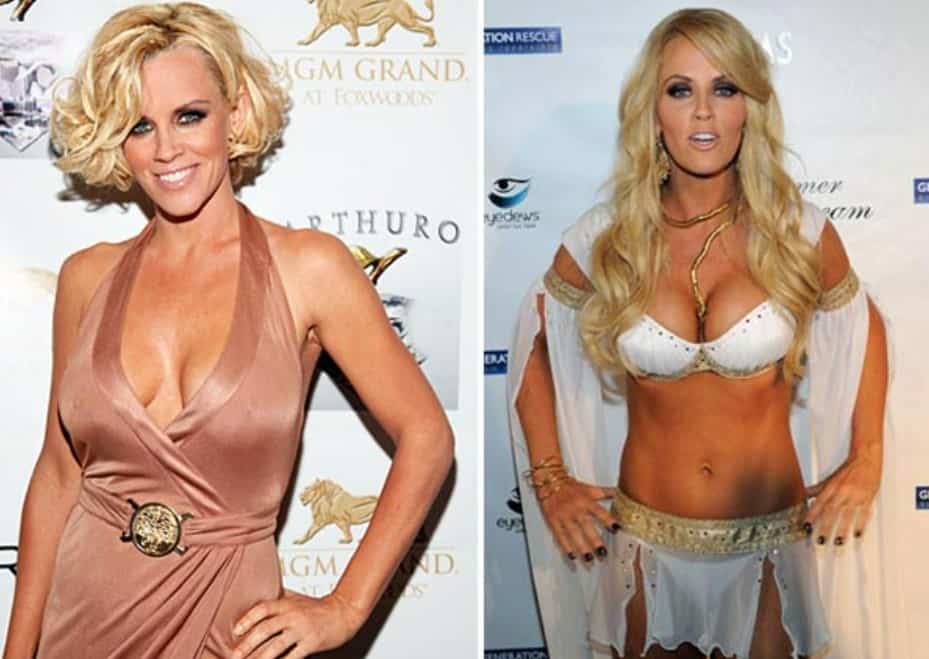 5. Jenny McCarthy
Jenny McCarthy, a model and actress, has consistently been open about her plastic surgery history. She had her first breast augmentation at the age of 19.
McCarthy later had them redone to make them smaller and is pleased with the outcome.
6. Kelly Rowland
Kelly Rowland of Destiny's Child opted to undergo breast implants to transform her previously A-cup breasts into a now B-cup, making her feel "complete." She did not make this decision lightly.
In fact, Rowland made her decision after 10 years of deliberation because it was something she really wanted to do for herself. Kelly has also mentioned how she absolutely adores her breast implants. She has also indicated that once she is done having children, she may take on an additional job.
7. Wendy Williams
Wendy Williams, an American television host, actress, and fashion designer has a large personality and desired a physique to match. She has previously undergone breast augmentation, a tummy tuck, a nose job, liposuction, and Botox. Williams has no qualms about discussing all of the work she has done on her body and enjoys flaunting it.
Breast Implant Risks
Breast implant risks are classified into two types: short-term complications and long-term difficulties. Short-term problems, such as bleeding, may develop during or after surgery. Long-term issues may occur later, and these may include implant hardening.
Though breast implants are long-lasting, the longer patients have them, the more probable they may develop complications that necessitate further surgery. Additional procedures may involve implant removal/replacement, scar tissue removal, or implant repositioning. Breast implant illness (BII) refers to a variety of symptoms that develop after receiving breast implants. BII is not yet recognized as an official medical diagnosis because research into it is only just beginning, although this may change.
Symptoms may appear shortly after breast implant surgery or may not appear for several years. Many patients claim that their breast implant illness symptoms go away once their implants are removed by a surgeon, but others do not. Breast implant sickness symptoms differ from individual to individual. More than 50 symptoms affecting the musculoskeletal system, capacity to think and focus (cognitive symptoms), and general body have been documented (systemic symptoms), regardless of whether their implants are silicone- or saline-filled. Symptoms may appear quickly after breast implant surgery or may not appear for several years.
Many patients claim that their BII symptoms disappear when their implants are removed by a surgeon, but others do not. General musculoskeletal symptoms include joint and muscle pain and muscle weakness. The cognitive symptoms include depression, anxiety, brain fog, fatigue, memory lapses, and difficulty concentrating. Lastly, you can also experience systemic symptoms which include autoimmune condition symptoms, chronic pain, dry eyes or blurred vision, loss of hair, rashes, and other skin issues.
Is it Worth it?
Breast augmentation is a great tool for a woman who feels they are not comfortable or confident with their breasts. These celebs all claimed that procedure was beneficial to their lives, and that if you can afford it you should give it ago. Saying that, make sure you put in the time to research the topic further and make sure you make the right decision for you.
With all the information provided above, breast augmentation shouldn't have a negative connotation and it just comes down to what you want. Make sure you look at all the details of the procedure and research the surgeons so in the end, you don't dislike what you get. Celebs have used it to feel better about their image, so if you're thinking of getting a boob job, get one if it is going to benefit you.